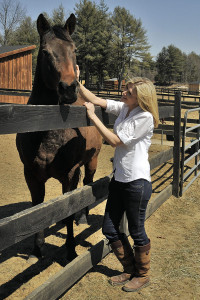 I cannot remember a time when I was not in love with horses. As young children, my cousin Sarah Beers and I would spend summers riding through the fields of coastal Rhode Island, cleaning stalls, currying and caring for our charges … and all of it was in our imaginations!
Coming of age only deepened our bonds with these magnificent animals. One of my deepest concerns was for the fate of retired Thoroughbreds that, in the eyes of many, had outlived their "usefulness." I realized there was a need for these beautiful horses to live out their lives in a dignified manner once their racing and studding careers were over.
And so I found Old Friends at Cabin Creek, the non-profit farm with a mission that touches my heart: To provide a dignified retirement for Thoroughbred racehorses and to raise awareness of their needs. I visited the farm in Greenfield Center, New York (just outside of Saratoga Springs) and instantly experienced a sense of healing and love. Owners Joann and Mark Pepper,  shared stories of horses returned to good health and given a chance at a full, peaceful life.
I have made a commitment to share a portion of the proceeds of S. R. Blackinton sales with Old Friends at Cabin Creek – and I implore everyone reading these words to join me in making donations to this 501(c)3 organization.
For complete details, visit www.oldfriendsatcabincreek.com.